Follow the conference on Twitter #BADSUrology
Find out more about virtual attendance
The British Association of Day Surgery (BADS) and the Getting it Right First Time (GIRFT) team are developing a national programme to transform urology pathways such that patients are offered surgical management for a range of urological conditions in an environment which is as "low intensity" as possible. It is recognised that a number of units have high day case rates for procedures such as TURBT however, the variation across the country is significant.

National experts from GIRFT and BADS will share experience and advice about how to develop day case pathways for the large majority of urological surgery. This includes:
Management of bladder cancer (TURBT pathways)
Bladder outflow obstruction surgery – moving from TURP to daycase or outpatient procedures
Major laparoscopic surgery as day cases
Day case management of ureteric stones
Novel anaesthetic approaches to urological surgery
Pitfalls to approach and obstacles to overcome – how they did it
The conference will also describe how urology investigation units can support your service to move procedures traditionally undertaken in a hospital environment into a community setting by embracing new technology.
This conference will enable you to:
Network with colleagues who are working to improve day surgery urology services
Learn from outstanding practice in day surgery urology
Reflect on national developments and learning
Understand how you can improve your day surgery pathways
Identify key strategies for implementation of a day surgery urology service
Ensure you are up to date with the latest national practice
Self assess and reflect on your own practice
Gain CPD accreditation points contributing to professional development and revalidation evidence
About the British Association of Day Surgery (BADS)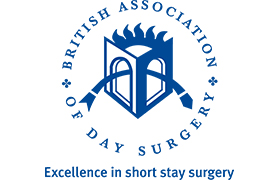 The British Association of Day Surgery (BADS) is a multi-disciplinary organisation constituted of surgeons, anaesthetists, nurses and allied healthcare professionals, including operating department practitioners, anaesthetic practitioners, perioperative assistants, physiotherapists and hospital managers.
It is committed to promoting excellence in day surgery via its educational activities, publications and collaborations with other organisations including Getting it Right First Time and The Centre for Perioperative Care.
Membership benefits include free access to our online handbooks, advice sheets, day surgery directories and previous annual conference presentations. Members also receive discounted fees for the BADS Annual Conference and HCUK/BADS virtual conferences and are eligible to apply for the BADS Educational Grant and complimentary membership of the International Association of Ambulatory Surgery. They may also submit unlimited publications to the Journal of One Day Surgery without incurring article processing fees
Further information is available from the BADS website www.bads.co.uk
Twitter: @britdaysurgery
LinkedIn: www.linkedIn.com/company/the-british-association-of-day-surgery