A Joint British Association of Day Surgery & HCUK Virtual Conference
Find out more about virtual attendance
Follow the conversation on Twitter #BADSBreast
A wide range of breast procedures can be delivered safely as a day case. When the Department of Health recommended prioritising day case breast surgery in 2007, emphasis was placed on non-oncoplastic procedures. However, innovation by surgical teams since, has successfully applied a day surgery 'mind-set' to the management of a growing number of oncoplastic procedures, which can release valuable inpatient resource for women who require postoperative monitoring following complex reconstructive surgeries. Despite these benefits, wide variation in day surgery performance persists nationally, usually, as a result of health professional and nursing misperceptions.
The current Covid-19 pandemic has placed unprecedented strain on hospital services, staff and facilities with hospitals having to redesign, pathways and physical spaces, with recommendations on prioritisation of a range of breast surgical procedures. Re-evaluating current breast surgery pathways by asking the question 'why is inpatient admission necessary' can simultaneously address the variation in breast surgery day case rates, which preceded the pandemic and contribute to the recovery of elective surgery in the NHS.
Attendance at this conference, which has been produced by the British Association of Day Surgery, will enable delegates to develop a day case management pathway for breast surgery and potential to improve trust management of breast surgical demand and capacity. The basic elements of a day surgery pathway will be presented including the evaluation of the quality of care provided. Specific details of multi-disciplinary care specific to breast surgery management will be presented by acknowledged experts in the field from a variety of backgrounds, reflecting the importance of the multi-disciplinary team in successful delivery of day surgery care for these patients.
Attending this conference will enable you to:
Hear about changes identified by the GiRFT breast workstream to help tackle variations in the way breast surgery is currently delivered in the UK
Understand how introducing day case breast surgery enhances patient-centred care and strengthens the therapeutic relationship
Learn from outstanding practice in day case non-oncoplastic and oncoplastic breast surgery
Understand how you can improve day case breast surgery service in your unit
Identify key strategies for patient selection
Self assess and reflect on your own practice
Network with colleagues who are working to improve and optimise their breast surgery day case service
Supports CPD professional development and acts as revalidation evidence. This course provides 5 Hrs training for CPD subject to peer group approval for revalidation purposes
100% of delegates at the last conference on this subject would recommend the conference to a colleague.
About the British Association of Day Surgery (BADS)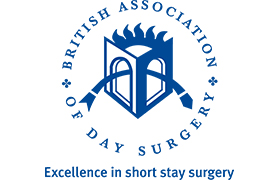 The British Association of Day Surgery (BADS) is a multi-disciplinary organisation constituted of surgeons, anaesthetists, nurses and allied healthcare professionals, including operating department practitioners, anaesthetic practitioners, perioperative assistants, physiotherapists and hospital managers.
It is committed to promoting excellence in day surgery via its educational activities, publications and collaborations with other organisations including Getting it Right First Time and The Centre for Perioperative Care.
Membership benefits include free access to our online handbooks, advice sheets, day surgery directories and previous annual conference presentations. Members also receive discounted fees for the BADS Annual Conference and HCUK/BADS virtual conferences and are eligible to apply for the BADS Educational Grant and complimentary membership of the International Association of Ambulatory Surgery. They may also submit unlimited publications to the Journal of One Day Surgery without incurring article processing fees
Further information is available from the BADS website www.bads.co.uk
Twitter: @britdaysurgery
LinkedIn: www.linkedIn.com/company/the-british-association-of-day-surgery