A Joint British Association of Day Surgery & HCUK Virtual On-Demand Conference
Find out more about On-Demand training
Day Surgery has become the standard of care for the majority of elective surgery. Until recently the drive to move from inpatient to day surgery management has been mainly directed at elective surgery, however, day surgery pathways for a range of emergency surgical procedures have now been successfully implemented in a number of units across the country.

The unprecedented pressure on hospital beds resulting from the Covid-19 pandemic and usual winter pressures has resulted in many patients having surgery cancelled due to lack of beds and has led to huge increases in elective waiting lists. Emergency patients have waited days for emergency theatre slots and high-dependency beds. Patients with less urgent conditions have had surgery postponed or cancelled due to concurrent Covid infection, bed pressures and staff shortages.
We will be hearing from trusts across the country who have implemented ground-breaking day surgery pathways for emergency patients, which have transformed surgical services. We will hear how robust pathways have been in the face of Covid-19 and how they have met challenges brought on by the pandemic.

The development of ambulatory emergency surgery pathways for minor and intermediate surgical procedures has led to huge benefits for both the patients and trusts. Patients receive more timely treatment in a semi-planned manner and significant numbers of beds can be liberated by the avoidance of unnecessary admission of a large cohort of patients.
This On-Demand course will provide an excellent opportunity to hear from experts from BADS and from specialist units across the UK. It will be of interest to those with medical, nursing and managerial backgrounds. We shall hear from centres who have developed dedicated emergency ambulatory units and those where individual pathways have transformed practice. Practical examples of how to set up ambulatory surgical pathways will be shared as well as lectures bringing up to date guidance on the essential components of a day surgery pathway and current advice on patient selection for day surgery.
This conference will enable you to:
Understand patient selection for ambulatory emergency/urgent surgery
Identify the key anaesthetic perspectives in emergency day surgery
Understand the risks & outcomes associated with Covid-19 infection
Learn from the Surgical Ambulatory Emergency Care (SAEC) Network how to improve ambulatory pathways
How to set up and maintain effectiveness of a Same Day Emergency Care (SDEC) facility
Learn from examples of high-achieving Emergency Surgical Ambulatory Care Units across the country
Understanding of the Association of Surgeons of Great Britain and Ireland (ASGBI) Emergency Surgery guidelines
Identify key features of a successful urgent ambulatory cholecystectomy service
Learn how to set up a day case RIF pain / appendicitis pathway
Improve ambulatory management of LIF pain / diverticulitis
About the British Association of Day Surgery (BADS)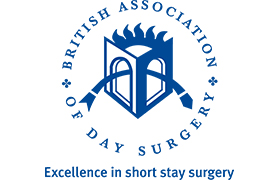 The British Association of Day Surgery (BADS) is a multi-disciplinary organisation constituted of surgeons, anaesthetists, nurses and allied healthcare professionals, including operating department practitioners, anaesthetic practitioners, perioperative assistants, physiotherapists and hospital managers.
It is committed to promoting excellence in day surgery via its educational activities, publications and collaborations with other organisations including Getting it Right First Time and The Centre for Perioperative Care.
Membership benefits include free access to our online handbooks, advice sheets, day surgery directories and previous annual conference presentations. Members also receive discounted fees for the BADS Annual Conference and HCUK/BADS virtual conferences and are eligible to apply for the BADS Educational Grant and complimentary membership of the International Association of Ambulatory Surgery. They may also submit unlimited publications to the Journal of One Day Surgery without incurring article processing fees
Further information is available from the BADS website www.bads.co.uk
Twitter: @britdaysurgery
LinkedIn: www.linkedIn.com/company/the-british-association-of-day-surgery