News and updates from today's conference chaired by Wendy Preston Head of Nursing Practice The Royal College of Nursing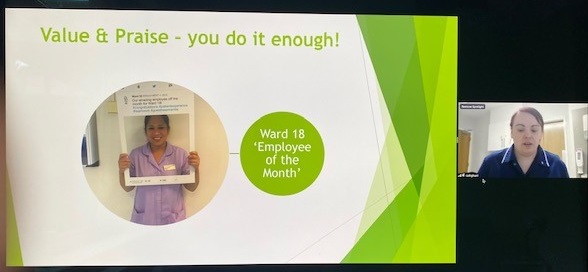 Opening the conference is Leah Callighan Matron Bradford Teaching Hospitals NHS Foundation Trust who asks "what characteristics have I learned to be an effective Ward Manager?"
• "Lead by example
• One team, many talents
• Mentor and support
• Create clarity
• Delegate & organise
• Be human
• Challenge yourself & be open to change"
Leah continues...."Valuing and praising members off your team is absolutely vital". " Talk to your teams – no matter how big or small, what has your ward / department achieved and how can you acknowledge this?"

Supporting Ward Manager to Lead through Covid-19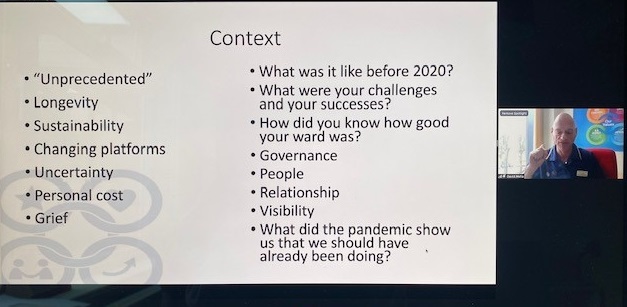 David Melia Director of Nursing and Quality The Mid Yorkshire Hospitals NHS Trust contines with a session focusing on Supporting Ward Manager to Lead through Covid-19.
• safety, accountability and governance: what needs to be in place?
• workforce and skill mix planning through Covid-19 – ensuring safe staffing
• supporting Ward Leaders through the pandemic: developing staff support for wellbeing and understanding what support ward leaders need

EXTENDED SESSION: Driving Pride on the Wards: Delivering Ward Accreditation
Vicky Dunne Assistant Chief Nurse - Exemplar and Transformation
with
Sheryl Obligar Ward Sister
Jermyn Congzon Neurosurgical Senior Staff Nurse
University College London Hospitals NHS Trust
• the exemplar accreditation system explained
• changing practice and culture to meet the standards
• a chance to hear from Ward leads about their lived experience of Exemplar accreditation:
- encouraging ownership of continuous quality improvement at ward level
- engaging and empowering staff to improve the basic standards and quality of care at ward level and reduce variation in standards between wards
• sharing best practice across wards
• increasing staff pride within their ward areas
• examples in practice
Networking Group: Continue the discussion from todays conference and support each other by joining the Ward Manager Networking group.
Today's conference Sponsor: Genome